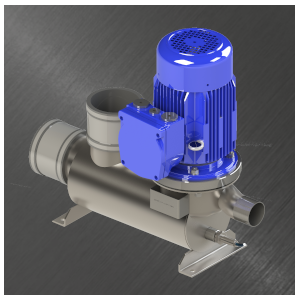 Description :
Domestic waste water evacuation connecting to collective sanitation, when it is higher than the house, passes by mini-lift station. Instead of classical cumbersome smelly tank, with heavy maintenance and requiring regular cleaning, we suggest the DOMODIP® solution : a Direct in-Line pumping system without any tank, so no odor, no cleaning and easy maintenance.
The DomoDIP® systems are designed to be easily adapted to different types of installation with simplified commissioning, operating and maintenance.
It is very easy to install a DomoDIP. Most of the time the installation is made either in basements or garages. Relying on the "Direct-in line pumping" concept, the DOMODIP is lifting gravity effluent directly from effluent downstream whithout water charging nor a collecting tank. The DomoDIP system is then odorless and does not require any cleaning. The electronic control unit is designed to automatically manage settings.
Advantages :

Compact installation, DomoDIP® takes very little space.
Easy and convenient connection, electrical connection to a 16A power outlet.
Easy maintenance, no cleaning ( visual check is sufficient and a dry cloth to remove dust if necessary)
No odor
No storage nor tank to be burried, easy access
No clogging, no need of float switches, a flush is enough to make the DomoDIP® start, without consumming more energy than a classical pumping station.
Robust stainless steel equipment (that accept detergents, hot water, wipes, etc…), pumped liquid temperature can be up to 60°C (140°F)
Silent system
No risk of overflow, DomoDIP® is fully waterproof
Industrial quality motor (IP67), with standard frame size and repairable. No plastic part.
3-year warranty
| | | |
| --- | --- | --- |
| Catalogue: | | Quote request |
| | | |