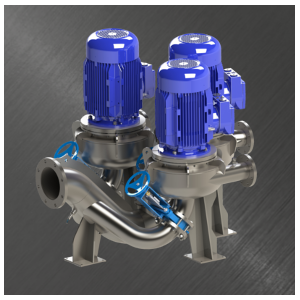 Description :

The new direct in-line pumping system, fitted with 3 pumps in one shared body, provides a new opportunity to cascade from 10 to 300% of nominal flow at variable speed within an extremely compact system. 
If you need to double the flow, the second unit will start. You need to triple the flow? Then the third unit will start! The speed variation and operating ranges extend as much!
Applications :
The DIP-Triplex is suitable, like for the DIP Duplex, for wastewater networks, storm water, combined sewage networks and industrial water.
Its applications are numerous:        
- Rehabilitation of Triplex stations.
- Strengthening flow compared to a duplex system.
- Strengthening security thanks to an additional spare pump.
- Possibility to divide the maximum flow in operation 2+1 for even more flexibility.
Range :
Thanks to its modular structure, numerous configurations are available:
- 3 separate discharges or 2 shared discharges and 1 separate discharge
- models available from DIP T 21 to DIP T 501
Options :
As for all the DIP System range, the remote managing system OmniDIP offering predictive and preventive maintenance, is included at no cost for the first year of operation.
The DIP-T can be adapted to any network configuration without the need of installing a straight pipe inlet, and thanks to its compact design, it allows more savings on underground construction work costs.
Its patented auto-shredding DIPCut® impellers (available as option from model DIP T 21 to DIP T 101) finalize the complete concept of the first auto-adaptive , clean and smart pumping system, that has been proven over more than 15 years.
Conformity :
standard ISO9906 and CE 2019.